I spent a little time to put together a few images the other day which show fashion Items that I am currently obsessed with.
Here I would like to show some general Items that I'm obsessed with for no particular reason (No driving force). If you want, please view what I'm obsessed with because of Kpop and Jrock.

Based on the Items I'm obsessed with my style seems pretty "Classic" but really it's not, I just have a thing for classic, classy items into my less than classy style.
First of all, Cardigans come in all kinds of styles. I do love classic simple cardigans but I am also into more wild ones… Like with crazy prints (which, if You've seen my other obsessions posts, you know I love). One cardigan I particularly want is by Hellcatpunks, a Japanese brand. I saw this cardigan in Kera Magazine and really loved it. It took me forever to find it online…But anyway, it's a pretty basic shaped long cardigan. On the right you can see it comes in Blue and Red but it also comes in Grey. I want the red one mostly. But I actually kind of want all three. I like options lol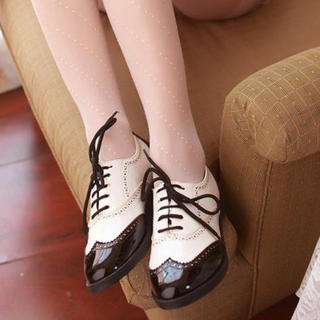 Second is the oxford Shoe. I want all sorts of oxfords. ALL THE OXFORDS! They are a cute simple looking shoe. Works with all kinds of looks from sweet to sophisitcated depending on the color and style. To the left is a style I particularly like. I found these on Yesstyle.com. I might have to get these.
Anyway. Yesstyle has a good variety of Oxfords. Another great oxford carrier is Dr. Martens.








Blazers. I just love a good blazer. It's a easy item that can make an outfit look just a little more formal/sophisticated. Just a little less layed back.


Turtlenecks… I've liked since I was young and recently am really liking them again. Can't be explained .
Bowler hats. I saw them in some cool fashion photos and I just decided I wanted them… I can't seem to find any…
I'm getting lazy with these.


Finally scarves. Just love them….
So lazy